Lo
uise is one of our regular clients who moved to our area to reunite with her son, whom she had been estranged from for many years, and she doesn't know anyone else in the area.  She recently had cataract surgery, and one of our volunteers provided transportation to the surgery, but she still has impaired vision in one eye.  In addition, she suffers from osteoporosis and is unable to stand for long periods of time.
   
Like many of our clients, Louise survives on a low income and relies on food stamps and the food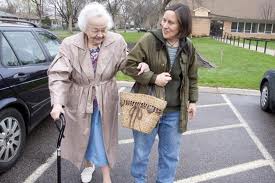 bank to sustain her.  One of our volunteers regularly drives Louise to the grocery store, and last week Louise called to cancel her ride because she didn't have enough money to buy groceries.  She asked that the driver take her to the store the following week when she would have her food stamps. 
Louise called a few days ago and saw a sign at church that they are giving away turkeys and she hopes to get one, but she would need a ride to the church to pick it up.  Are you able to provide Louise with a ride?
Thank you for your support that allows us to help seniors in our community just like Louise.